Mobile Application Development Company in Mumbai, India
Application development services from Neolite Infotech and team
We at Neolite Infotech are professionals at Mobile Application Development in Mumbai, Navi Mumbai and India as well as all over global. Neolite Infotech specializes in developing iPhone and Android Applications for healthcare, education, transport, retail and other business units. Company has dedicated team of mobile apps developers, designers for mobile applications. Neolite Infotech ensures end to end delivery of mobile applications. This involves requirements analysis, storyboard creation, coding, testing on simulator, testing on device, and if required as in case of iPhone ensuring that the app is App store ready. We provide "great" user experience and appropriate value added services for the various mobile platforms.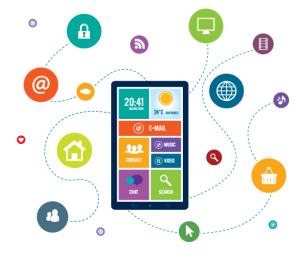 Recently we have also started providing Product Development Services in Mumbai. Mobile Technology has stimulated a greater need for applications designed specifically for mobile devices. Connecting these applications to back-end systems or other IT resources helps to maximise their total advantage. Neolite Infotech development and connectivity software for mobile facilitates development of HTML5, hybrid and native applications, in addition to connecting them with other systems and cloud-based services.
Connect a new customer to your business by getting an app for your brand
Your mobile app is an extension of your business. Our Mobile Application Developers in Mumbai who can help create a platform that visually represents your brand and makes an impact on your audience. By building a  Mobile app for Android users, your business can reach a wider audience and tap into a global market. A mobile application directly connects your business with your customers, allowing them to access your services anywhere at any time. Through creative design and development, we build a mobile app with a captivating yet intuitive navigation.
Develop a mobile app to help increase the online presence of your business and connect with users through a new digital platform. Whether it is a native, hybrid, or web app we can determine and execute the right plan for your mobile endeavor. Our mobile app developers will build the experience you need in order to make an impact on your market through a new mobile app.
Ability used for developing an application
Mobile Application is the fastest way to browse internet content on the move. We are the magicians with the capability of turning your ideas and imaginations into charming Mobile Apps. We make you able to keep such big technologies in your pockets. There are numerous applications, you just name them and we create it for you.
Our expertise on mobile application ranges from Games to Informational, transnational and industry specific along with others. Geo location, people, mobile tracking and many more, you just name and we make it all for you. Whether you want applications for Android, Blackberry or even iPad, we are one of the best Mobile and Android Application Development Company in Mumbai and develop all sorts of mobile applications with quite an ease and finesse that is really impressive.
Our mobile team has a rich experience of several years which has resulted in excellent mobile application solutions for our clients and helped us developing many products under our belt. We have experience of developing mobile applications for consumers as well as enterprises. Being one of the leading Mobile Applications Development Companies in Mumbai and Navi Mumbai, we have developed various apps for the end customers for their personal usage and also for various organizations to ensure automation of their sales process.
We are Android Application Development Company in Mumbai, India offering following services:
1 Android Application Development
2 iOS Application Development
3 Hybrid Mobile Application Development
4 Native Mobile Application Development